The Grand Encampment of Knights Templar, USA has been blessed with great leadership for over 200 years which has allowed it to remain one of the most prestigious Masonic Orders in the world.
We must never lose sight of those virtues and traditions which for centuries have brought great Christian men into our ranks.
The Grand Encampment has for more than a decade been devoted to developing leadership training and mentoring of our Sir Knights, ensuring we have quality leaders for the future. Sir Knight McGee has been a mentor to many fine men since his early days as a DeMolay Advisor and continues to leave his legacy by being a mentor to many Sir Knights today.
As we prepare for our future, we need to holdfast those virtues that set us apart from other organizations but embrace those changes that will allow us to remain for another 200 years. It has been said that "if you are not riding the wave of change, you will find yourself beneath it."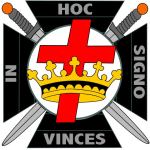 "I have enjoyed working with the elected officers of the Grand Encampment as a Department Commander. If elected Grand Captain General, I will continue to work to ensure our Grand Encampment is positioned to allow good Christian men the opportunity to enjoy Templary for generations to come."

– James C. McGee, PGC